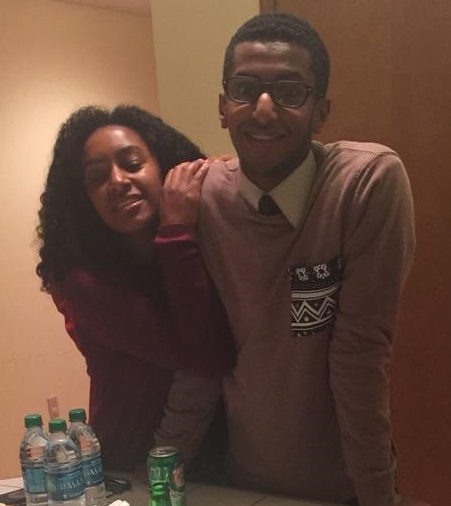 Hasiet lived her life searching after what she could do for God. The only thing my sister ever cared about was doing God's will. She always wanted to spread the gospel in a foreign country, and when the opportunity arose, there was no changing her mind. The trip to India was all she ever talked about from the day she learned about the trip to the day she left. She constantly prayed to make sure it was God's will for her to go there. Finally the time came for her to go. The day I was supposed to drop her off at the airport, I was running late. Eventually I pulled into the airport and my sister started talking about all the planes going missing on the way to Asia, and joked about her flight getting lost on the way to India. I've never cared for jokes like that, and I told her to stop joking about that or else I wouldn't let her get on that flight. When she saw how serious I was about that, she tried to put my mind at ease. She said, "Hosanna, if I die on this trip, I would die knowing I was on my way to serve God, and that would be enough for me". Half-joking or not, that did make me feel better. After she said goodbye, she rushed into the airport fully believing she had missed her flight. Yet somehow, she texted me saying that her flight had fortunately been delayed thirty minutes so she was able to make it on her flight. That was the last assurance she needed to know it was God's will for her to be in India.
When I first got the news about my sister passing away in India, it was understandably hard. Hasiet wasn't only my sister, she was also my friend and was very important in my life. I look up to her in so many ways. From her relationship with God, to her adventurous spirit, there was a lot to learn from the example my sister set. That day was the longest and worst day of my life, and I couldn't wait to get to sleep to escape from the pain if only for a few short hours. That night, I woke up in the middle of the night to the worst feeling I've ever felt. The pain was so heavy that I knew I could not live the rest of my life like this. I could feel that if I didn't change something, then that would be the start of a terrible decline. I knew that I had to make a decision: I could either continue to wallow in my sadness and stumble through the rest of my life or I could give my pain to God and let him turn it into something better and meaningful. So I prayed, "God, the aching I am going through is more then I know how to deal with. I know you wouldn't put me through anything you could not help me get through, so please take over in my life. Taking my sister has left a big hole in my life, and I need you to replace it. The only thing I know is that if I don't feel at least a bit of hope when I wake up in the morning, then don't even bother waking me up. I cannot get through this without you". I don't really know how I fell asleep, but somehow I eventually nodded off. When I woke up in the morning, I felt much more at peace. Obviously I wasn't 100% but at this point I could feel a bit of optimism in my situation. I could see how my sister's death could bring everyone closer together and strengthen our relationship with God. Sure, it won't be easy but no one ever said it would be.
What brings me peace during this hard time is knowing that my sister's death is not a tragedy. She didn't die doing something wrong or sinful, she died serving the Lord. While in India, she was happier then she had ever been doing something that she loved. Her death had meaning, and it's a meaning that I know my sister was proud of. Because of this, we know she is receiving the highest honor in heaven. 2 Timothy chapter 4 says, "I have fought the good fight, I have finished the race, I have kept the faith. Now there is in store for me the crown of righteousness, which the Lord, the righteous Judge, will award to me on that day—and not only to me, but also to all who have longed for his appearing". My sister received the only thing in life that really matters, hearing the Father say "Well done, good and faithful servant!" The only thing we have to be sad about is not having her around anymore, but even that is selfish. We will all see her again soon. If my sister's death has caused anyone to question their faith, to become angry at God, or even to have doubts about God then I urge you to do the opposite. See it as a last favor to my sister if you will. The only thing that would make my sister even happier right now is knowing that she has played a part in her friends and family having a close and personal relationship with God. Anything else would hurt who my sister is and what she stood for. So don't cry or feel bad for my sister, use her death to spur you to reaching others towards Christ. It's what my sister wants, what my family wants, and most importantly what God wants.
Lastly, I'd like to thank Biola University's community and staff, and especially Team India and everyone who has helped us to bring Hasiet's body home. Also I want thank you for your prayers during this difficult time, we appreciate each and every one of them. Our prayers have been heard, and God can turn all situations into good for those who love him. Thank you, God bless.