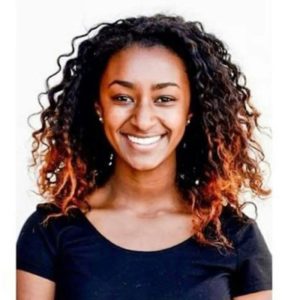 "But you, keep your head in all situations, endure hardship, do the work of an evangelist, discharge all the duties of your ministry."  2Timothy 4:5
       On May 15, 1995, the Lord blessed Pastor Ambelie Negash and his wife Mrs. Fasika Fetene with a beautiful daughter.  They named her Hasiet. The name means Joy because they got her after they prayed four years for a child.  There is an Ethiopian saying that goes "a name is given by angels."  Quite frankly, Hasiet embodied her name and she lived joyfully until her last day on earth.
Eighteen months after Hasiet was born, Pastor Ambelie and Fasika were blessed with a second child and named him Hosanna (which means "Blessed is he who comes in the name of the Lord").  As devout believers and ministers of the gospel, Pastor Ambelie and Fasika created a godly atmosphere in their home where Hasiet and Hosanna could thrive.
Hasiet and Hosanna grew up not only as siblings but as best friends.  As they got older, their age difference slowly faded away and they became as though they were twins.  Hasiet and Hosanna had a wonderful childhood filled with laughter.  Even when they fought and made each other cry, they didn't let anyone come between them not even their parents. They had great love and respect for their parents. At the memorial service held at Biola University on February 5, 2015 Hosanna remarked, "Hasiet is not only my sister, but she is everything to me."
Hasiet was an honor student throughout her school years; from grade school to university. She was a great listener, attentive, outspoken, and respectful. Hasiet was not only an outstanding student but she was also a great citizen who engaged in extracurricular activities to serve her fellow students and the community.  She treated everyone with dignity and respect.  She had a great desire to help the needy, especially children.  Her vision in life was to show unconditional love to less fortunate children and provide them with emotional, spiritual, and financial assistance.

Beautiful Joy and Profound Grief:  By Biola University President Dr. Barry Corey
Hosana Negash:  The only thing my sister ever cared about was doing God's will.
Free:  The meaning of her painting by Brady Lee, Team India 2015
Hasiet's Mark:  Hasiet's live has been a source of courage, freedom, and renewed vision for many.
How to Handle Grief:  Dr. Maribeth Ekey counsels Biola students regarding grief in response to the loss of beloved student, Hasiet Joy Negash
Freedom at Missions Conference 2015 – Biola University:  By Alex Middleton: Missions Conference Director
Hasiet has modeled for us what it means to live by faith through the way she lived her life.  Scripture tells us, "Suppose a brother or sister is without clothes and daily food. If one of you says to him, 'Go, I wish you well; keep warm and well fed,' but does nothing about his physical needs what good is it? In the same way, faith by itself, if it is not accompanied by action, is dead" James 2:15-17. Therefore let us follow in Hasiet's footsteps and live out our faith in action.