Hasiet's Vision International was established in March of 2015 in honor of Hasiet Negash to continue the vision she had to serve vulnerable children through the love of Christ.  After Hasiet went to be with the Lord in January of 2015, at the age of nineteen, while she was on a mission trip in rural India, her parents along with some family and friends decided the best way to honor her life and continue her legacy was to advance the work she had begun.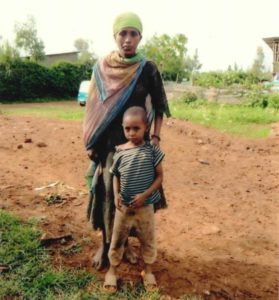 In June of 2015 Her parents Pastor Ambelie Negash and Fasika Fetene and her brother Hosanna Negash traveled to the city of Bahir Dar, in the north-western region of Ethiopia to begin this ministry.  The need was overwhelming.  Many children live in absolute poverty without adequate food, safe drinking water, shelter, health or education.  Some of these children live with a single parent others are orphans who live with older siblings or relatives, many with no income who survive by begging for food and live in makeshift homes.  Some have very little income from working odd jobs whenever they can.
Working with local church leaders they were able to identify families that were in greatest need and we started out by sponsoring nine children.  We quickly connected these nine children with sponsors in the US who were willing to support them through monthly donations.  Since then we have added more children and will continue to do so as sponsors become available.